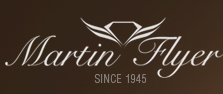 Beginning in the bowery district more than 65 years ago, Martin Flyer is one of the most recognizable names in the jewelry industry today. Now based in a 10,000 square foot facility in Manhattan's diamond district, the third generation family business continues to carry out the Flyer tradition of providing customers with the highest quality products, competitive prices, and first class service.
Martin Flyer initiated the concept of the 'Five Classifications of Birdal' as an education tool for customers. Developed to make the process of selecting an engagement ring easy and worry free, these 'classifications' continue to keep FlyerFit on the cutting edge of the bridal jewelry market.
Follow this link to view the full Martin Flyer Bridal and Engagement Collection . Questions regarding purchasing and ordering may be directed at Lautares Jewelers Greenville, NC Jewlery via their contact page here.